The luster colors are not suitable for dinnerware.

Instruction manual
The liquid bright precious metals and luster paints are supplied ready for use. Further dilution is not recommended. The preparations must be shaken well before use. The bottle spout should be clean before pouring.
The viscosity of the preparation is increased as soon as it is in contact with air. Therefore, no more should be poured out than what can be used in 30 minutes.
The goods to be decorated must be clean, dry and dust-free! The goods should not be touched with greasy hands! Even settling of dust on a still damp decoration may cause surface defects after firing.
Brushes of good quality should be used. Brushes with soft bristles are preferred. Hard bristles may leave brush marks after firing. A flat tray is recommended to facilitate picking up the specimens. The brush is dipped and the excess color is wiped off. The application should be carried out with as few brush strokes as possible. The width of the brush should be selected according to the type of decoration. The brush should never be dipped directly into the bottle, as dust could easily enter. The brushes can be cleaned with turpentine or a thinner oil. If solvents with low volatility (e.g. turpentine) are used for cleaning, it is recommended to wash out the brush in methylated spirits afterwards.
The precious metals and luster paints must be baked with good ventilation. Between 300 and 400°C, the organic oils and resinous materials used as carriers release vapors when burned. These fumes must be removed from the environment during firing so that the luster of the fired metal film is not affected. The decoration should not be placed in the kiln at high temperatures or there is a risk of bubbling or haze formation. The decoration is fired between 750 and 800°C. Depending on the type of body, the firing curve must be adjusted. Stoneware cullet and stoneware sherds should be heated at 50°C per hour. A porcelain body can be fired faster.
Our samples were fired with a firing cycle of 420 minutes to 770°C and a holding time of 10 minutes at maximum temperature. The samples consist of a C19 body glazed with 51.012 white glossy or 82.230 transparent matt.
To obtain a glossy result, the decoration must be applied on a fired glossy glaze base. The firing result depends on the quality of the glaze underneath.

Sources of error:
-Matt film or haze formation: too strong firing or poor kiln ventilation
-Lustre film curled up, purple coloration: attack by vapors
-Cracks in the fired film: Resin cracks Temperature rise too fast. Firing cracks Maximum temperature too high or too strong heating power.
-Pinholes/ blemishes: dust in wet film, wrong product selection
-Dull or crystalline appearance of the decorative film: too strong application, too strongly baked film or wrong product choice
-Poor adhesion: insufficient firing, application too thick, attack by vapors, wrong product selection
Kennzeichnung:
contains: Rosin, Rosmarinöl N. Afr., Eukalyptus globulus Öl, Kiefernextrakt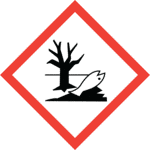 H-Sets:
H226 Flammable liquid and vapour..
H315 Causes skin irritation.
H317 May cause an allergic skin reaction.
H319 Causes serious eye irritation
H411 Toxic to aquatic life with long lasting effects.
P-Sets
P210 Keep away from heat, hot surfaces, sparks, open flames and other ignition sources.
No smoking.
P261 Avoid breathing dust/fume/gas/mist/vapours/spray.
P273 Avoid release to the environment
P280 Wear protective gloves/protective clothing/eye protection/face protection.
P321 Specific treatment (see on label).
P370+P378 In case of fire: Use Foam and Co2 to extinguish
P403+P235 Store in a well-ventilated place. Keep cool.
P501 Dispose of contents/container in accordance with local regulations.