Labeling:
Contains: Quartz (SiO2) inhalable fraction, Rutile (TiO2)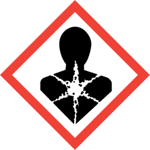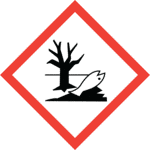 H351 Suspected of causing cancer
H373 May cause damage to organs through prolonged or repeated exposure.
H411 Toxic to aquatic life with long lasting effects
P201 Obtain special instructions before use
P260 Do not breathe dust / fume / gas / mist / vapour / aerosol.
P273 Avoid release into the environment.
P280 Wear protective gloves / protective clothing / eye protection / face protection.
P308+P313 In case of exposure or if affected: Get medical advice / medical attention.
P314 If you feel unwell seek medical advice / attention.
P391 Absorb spillage.
P501 Dispose of contents / container in accordance with local regulations.